One of the most useful web parts that I've seen for SharePoint is FeedReader, from Smiling Goat. It is, quite simply, an RSS and Atom aggregator for SharePoint sites, implemented as a web part that can consume multiple feeds and represent them in a clear, concise view with a number of display and formatting options. Best of all, it is free! The screen shot below is an example on my Windows SharePoint Services site: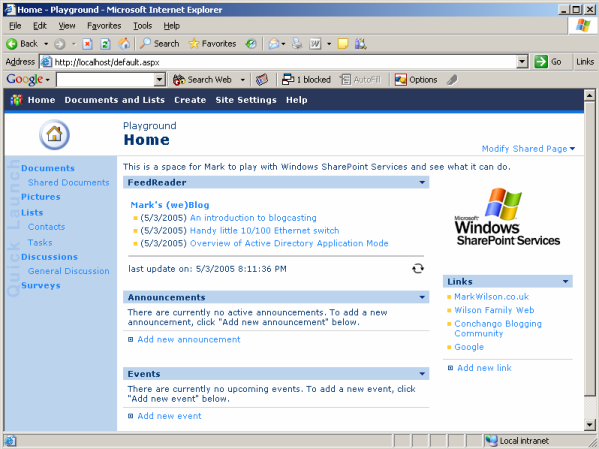 Like many free web part downloads, installation is not as simply as running the supplied Windows Installer (.MSI) file; however it only requires one command – registration of the web part using the stsadm.exe tool which is part of Windows SharePoint Services, found at %programfiles%\Common Files\Microsoft Shared\Web Server Extensions\60\BIN\. The full command for installation is stsadm -o addwppack -filename "C:\Program Files\Smiling Goat\FeedReader\smilinggoat.feedreader.cab" -globalinstall -force, after which it is available for import into a web page.
Now all I need to do is to find something just as good (and that is browser agnostic) to use in static HTML pages.
(Purely co-incidentally, my RSS and Atom aggregator of choice is also called FeedReader, although apart from its purpose, it is an totally unrelated product).