For the last week or so, our living room has been out of bounds as we installed a new fireplace, redecorated and are now getting a new carpet fitted. That means all of the furniture has moved out to another room – and that includes our Smart TV.
After months of near-perfect video streaming over the Power Ethernet connection that I wrote about in November, I've had to go wireless again, and that means lots of buffering, etc. – despite the TV being right next to the Apple AirPort Express that I'm pretty sure should be repeating the signal.  That's prompted me to a) do something about it as it will be another week or so before the Xbox and Smart TV are back in the living room and b) write this post about my experiences with my Power Ethernet TP1000 sockets.
Installation
If you can install a 2-gang (double) power socket, you can install a Power Ethernet socket*.  Simply turn off the power at the mains (consumer unit), disconnect the existing socket wiring, connect the TP1000  – and you'll have a single power socket and four Ethernet ports in place of the two power sockets that were there originally.  Repeat for the second socket (you need a pair to work together) and a mesh network is created automatically. Simple!
A few points to note:
Depending on the depth of the pattress or wall box that your socket uses, you may need a "spacer" to increase the depth to at least 35mm. I found that the wall box for my living room (standard fit for an early-1990s house with dry lined "dot and dab" walls) was too shallow but some spacers were included with my sockets.
Even with the spacer, it's still a tight fit (the back of the TP1000 is bulkier than a standard switched double socket) and I moved the point at which the ring main entered the wall box by a couple of centimetres to improve access to the wiring connections.
The TP1000 power socket is unswitched. That's not a problem for me, but may be a concern for some people.
Although the facia plate for the TP1000 is white, the unit itself is grey (and my spacers were white). Also, it has rounded corners, which look nice, but are difficult to match with existing sockets (or the spacer).  Again, not a problem for me (the socket is hidden behind our TV stand) but it would be good to see Power Ethernet devices available in a selection of finishes to match the most commonly used electrical fittings here in the UK.
Use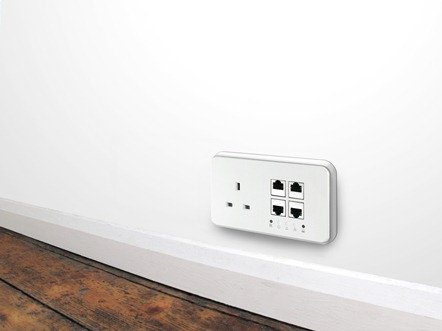 It's a power socket, just use it as normal.
And it's an Ethernet switch with four connections. Just use them as normal. Of course, one end will need to be connected to your Internet connection – for me, this is via the wired LAN in my home office, without any need for cross-over cables.
Performance
For many years, I avoided Ethernet over power line solutions because I was concerned about interoperability between the various standards, and I'd heard stories of poor performance. Of course, this will vary tremendously based on the electrical wiring in use but I've been pretty impressed with the Power Ethernet devices. Bear in mind that my primary use is to stream TV from the Internet (BBC iPlayer, for example), so the bottleneck is my "up to 8Mbps" ADSL2 connection, but  I'm having no issues at all, even streaming HD content.
It's difficult to measure the true throughput of the network but the Power Ethernet Management Software (PEMS) suggests I'm sustaining a connection at around 160Mbps and the initial connection speed often rises over time.  Tests using file transfers (for example, using NetCPS) suggested lower transfer rates but it's still far better than over Wi-Fi – and seems more reliable.
The TP1000 Ethernet sockets also go into standby mode when not in use, which obviously has an environmental (and fiscal) impact, but they are quick to "resume" when a device is plugged in to one of the RJ45 connections or switched on, taking just a few seconds to establish a connection as normal.
Management
As I mentioned above, Power Ethernet provides management software  for the Ethernet switches inside the TP1000s. I'm not using the advanced functionality (e.g. setting up VLANs or QoS) but those sorts of capabilities will be extremely useful in an office environment and it's still useful to be able to see the topology of the network, check out the port states, monitor bandwidth and otherwise manage the devices from a single location. Supplied as a Microsoft ClickOnce application, I did initially have some problems installing the software but Power Ethernet were able to take my log files and quickly resolve the issue. Since then, PEMS has automatically updated itself to the latest software release with absolutely no problems and apart from a few display problems (which may be due to the fact I'm running it on a Windows Server 2008 R2 machine, and connecting via RDP), it's been pretty solid.
Interoperability
I mentioned that my SmartTV is temporarily in a different location (approx 8m from the nearest Ethernet socket) and, faced with an inability to watch iPlayer without buffering, I needed to set something up.  As this is a temporary fix and I don't think Power Ethernet sockets are available with a brushed metal finish, I picked up a single TP-Link AV200 Nano powerline adapter (TL-PA211). It's not as neat but it's no worse than a 12V DC "brick" and it's fine for a temporary setup. And, because both the TP-Link and the Power Ethernet sockets are HomePlug compatible, it instantly joined the mesh so I was connected to my Internet connection right away with no further configuration required.  What I did find is that the TP-Link connection is slower – which may be down to the the household electrical wiring or the device chipset (the TP-Link device uses the Intellon INT6000 chipset, whilst the TP1000 uses the Qualcomm Atheros INT6400) – but PEMS recognises a third party device and has shown me connection speeds in the range of 85-115 Mbps – which is still pretty decent and far more than my broadband connection!
Summary
I've been really pleased with my Power Ethernet TP1000s and I'd certainly recommend them for home or small business use. The management software can be a little clunky but it's only really needed if you want to manage the embedded Ethernet switch, which is overkill for my simple home setup. And, whilst they may not be the cheapest HomePlug devices on the market, there are some significant advantages in terms of physical security, aesthetics and performance – and there's always the option to combine with other 200Mbps HomePlug devices where appropriate. If you're looking for an alternative to Wi-Fi, and running CAT5/6 is not an option, I seriously recommend taking a look at Power Ethernet.
* Of course, if you're not confident in doing this, then consult an electrician. I'm not qualified to give electrical advice – I'm just a "competent DIYer".