As more an more computing devices are being allowed into my living room (Xbox, Smart TV, etc.) I'm starting to find that the Wi-Fi in our house, which seems fine for basic surfing, email, social media, etc. is struggling more and more when it comes to streaming video content.
It could be a problem with my Wi-Fi setup but I have a pretty good access point, located in a reasonably central position (albeit upstairs) and an Apple Airport Express acting as a repeater, connected to some speakers in our garden room.  I have a feeling that the TV and Xbox are picking up the Airport Express, rather than the main access point (no way to tell on the Airport Express as its diagnostics are almost non-existent) and the lengthy Wi-Fi journey between access points may be the cause of my problems.  I could redesign the network but it works for streaming Spotify to the garden room/kitchen so I started to consider alternatives.
Creating CAT5E/6 cable runs around the house is just too disruptive (I did consider it when we extended a few years ago, but it was quite expensive too), so I started to look at running Ethernet over the household electrical system with HomePlug devices.
A bit of crowdsourcing (asking around on Twitter) turned up quite a bit of advice:
Develo dLAN devices seemed to be well-regarded and I nearly bought a dLAN 500 AVtriple+ starter kit.
A few people mentioned the TP link Powerline products too.
Some people told me to go for faster connections (500Mbps) and that slower devices may be limited by 10/100Mbps Ethernet connections.
Others suggested higher speeds are more vulnerable to overheating and interference (that was another common theme – depending on the household wiring it seems you might not get very close to the stated maximum).
Ultimately, whatever I use will mostly be streaming content from the Internet (BBC iPlayer, etc.) over my ADSL connection (which runs at about 6Mbps downstream) so the home network shouldn't be the bottleneck, once I get off Wi-Fi and onto some copper.
I mentioned that I nearly bought the Develo kit, so why didn't I? Well, just as I was getting ready to purchase, PowerEthernet (@PowerEthernet) picked up on my tweet and suggested I take a look at their product, which is really rather neat…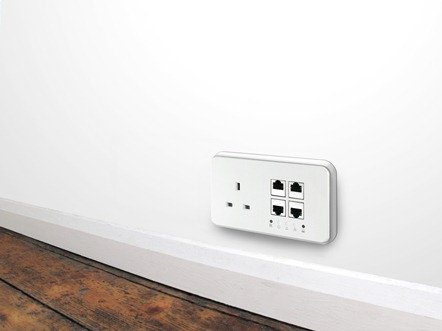 Instead of plugging into a socket (either with or without pass-through power capabilities), the PowerEthernet devices replace a standard UK double socket to provide a single socket and four 200Mbps Ethernet ports. You need a pair (of course) but they work together to create an encrypted (AES128) mesh network that's compatible with the HomePlug Alliance AV standard.
Professional installation is recommended but, as Paul Ockenden (@PaulOckenden) highlights in his PCPro article:
"Most competent DIYers should be able to replace an existing two-gang socket with a Power Ethernet faceplate, and indeed the IEE Wiring Regulations do allow for a confident consumer to do this. For a new installation, however, or if you lack the confidence, you'll need to consult a qualified electrician."
I haven't installed mine yet – I only collected them from the Royal Mail today – but I intend to report back when I've had a chance to play. In the meantime, Jonathan Margolis (@SimplyBestTech) wrote a short but sweet piece for the FT. PC Pro's full review suggests they are a bit pricey (almost £282 for a pair including VAT) but Girls n Gadgets' Leila Gregory (@Swanny) found them on Amazon at closer to £80 each (as did I).
I'll write more when I've had a chance to use them for a bit…