As I paid for a ticket to for the rail journey into London this morning, I was reminded of my anger and frustration the last time I made this trip, herded like cattle onto a packed commuter train, whilst being refused access to one of the many trains that stop at my station but which travellers are unable to use because they are either "to pick up" or "to set down" only.
As a nation, we tend to blame all that is wrong with our railways on privatisation but this practice is not new. Indeed, it serves to show that, even in the halcyon days of nationalised rail service, some ludicrous decisions were made – and that some of those decisions still stand today.
I live just outside Milton Keynes, a town 50 miles north of London with a generally good rail service, from two train operating companies, London Midland and Virgin Trains. London Midland operates stopping and semi-fast services whilst Virgin runs the express (formerly inter-city) trains (Southern also operates services via west London). But there is a flaw – and it's a big one. Between 07:14 and 09:19 southbound, and between 15:43 and 18:43 northbound, passengers are not allowed to board Virgin trains that stop at Milton Keynes. And yes, you read that correctly, passengers are not allowed to board trains that already stop at their station at the busiest time of the day!
Last week, faced with huge queues for a the 16:48 London Midland service for which the inbound train had not yet arrived, I tried to board the 16:43 Virgin train instead. At the ticket barrier I was told "this train doesn't stop at Milton Keynes" but, when I pointed out that it does, at 17:13, the Virgin Trains official still refused me access to the platform.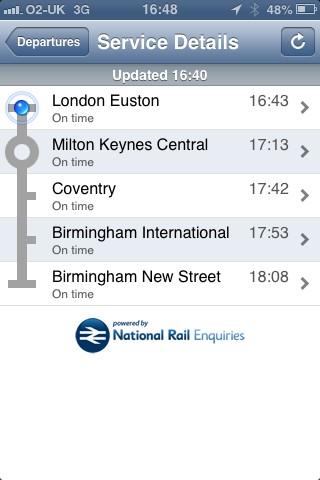 How do I know about the unadvertised stops? Well, aside from working timetable information being available online, looking at Milton Keynes arrival and departure information on the public timetable clearly showed a train at 17:13 which was the 16:43 from Euston.
I can understand the desire to keep seats free on long-distance trains for long-distance travellers: that's why seats are sold with reservations and also why there are fare structures that limit travel on peak-time journeys. I can also see the timetabling logic (when I have travelled to Manchester, trains are often "late" when they stop at Stockport "to set down only" but "on time" when they make it to Piccadilly a few minutes later, due to the recovery time built in to the timetable). But there is a difference here: Milton Keynes is 50 miles from London;  it's not a suburb of the same conurbation, like Watford is to London or Stockport is to Manchester. Preventing travellers from boarding/leaving trains here is equivalent to saying that passengers can't use Virgin trains from Wolverhampton to Coventry or from Manchester to Stoke-on-Trent and that they should use local services instead. Madness!
When I vented my frustrations on Twitter, Virgin Trains backed up their position, but some people suggested that those with cheap tickets shouldn't be able to use the fast trains. Let me just be completely clear: there are discounted Virgin-only or London Midland-only fares but I was attempting to travel with a full-price peak ticket – in other words a ticket that should allow travel on any service between Milton Keynes and London.
So, what's the real point of this 500-word missive?
Give Milton Keynes the express train service that it deserves! Network Rail spent millions adding platforms to our station so that more trains can stop here, yet one of the train operating companies doesn't let the passengers get on or off at the busiest time of the day.
The trains may be privatised but the railway is a piece of national infrastructure, and Richard Branson et al would do well to remember who their customers are when  complaining about losing lucrative franchises to rival bidders*…
*I appreciate that this decision was later reversed due to issues with the bidding process – that doesn't change the fact that Virgin Trains sometimes seems to forget who its customers are.